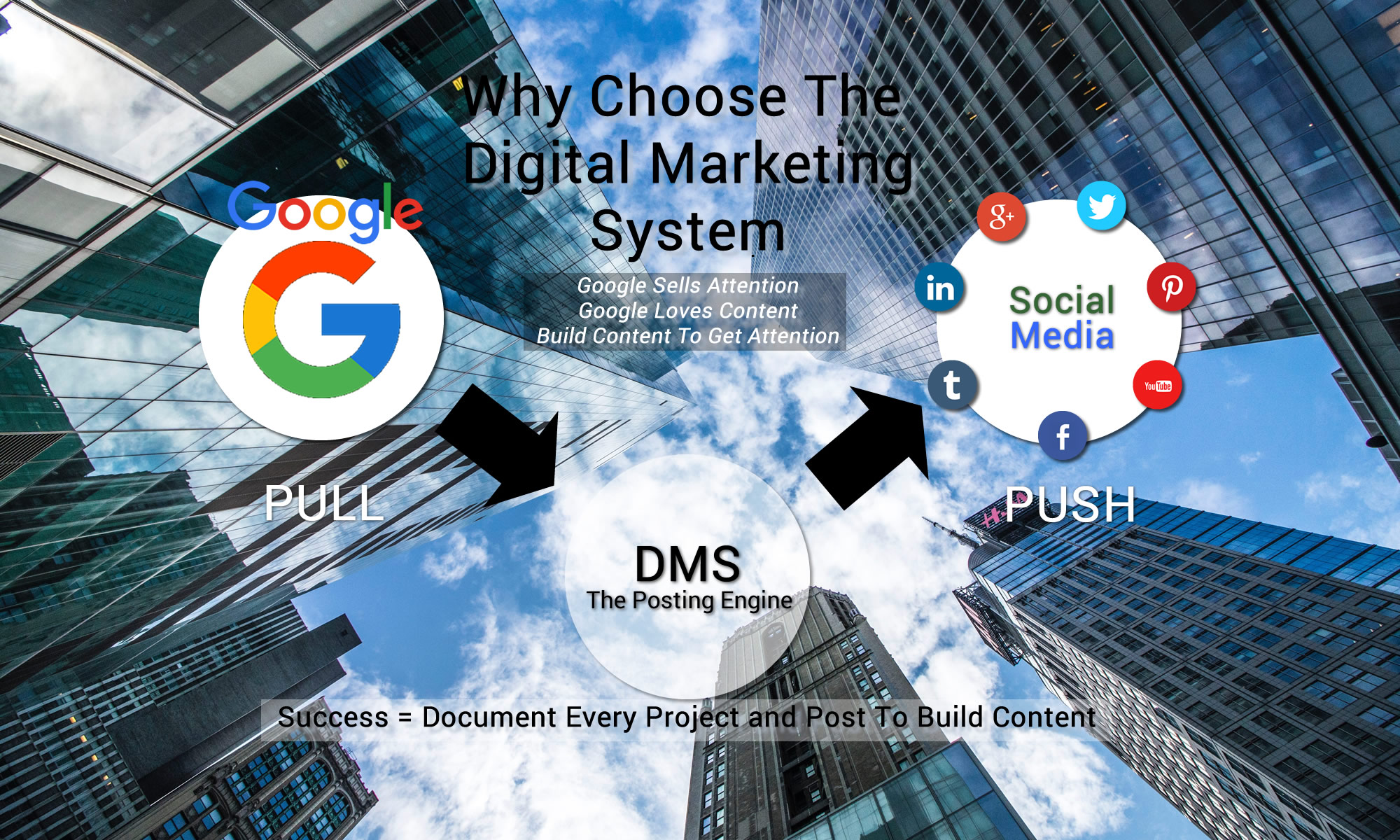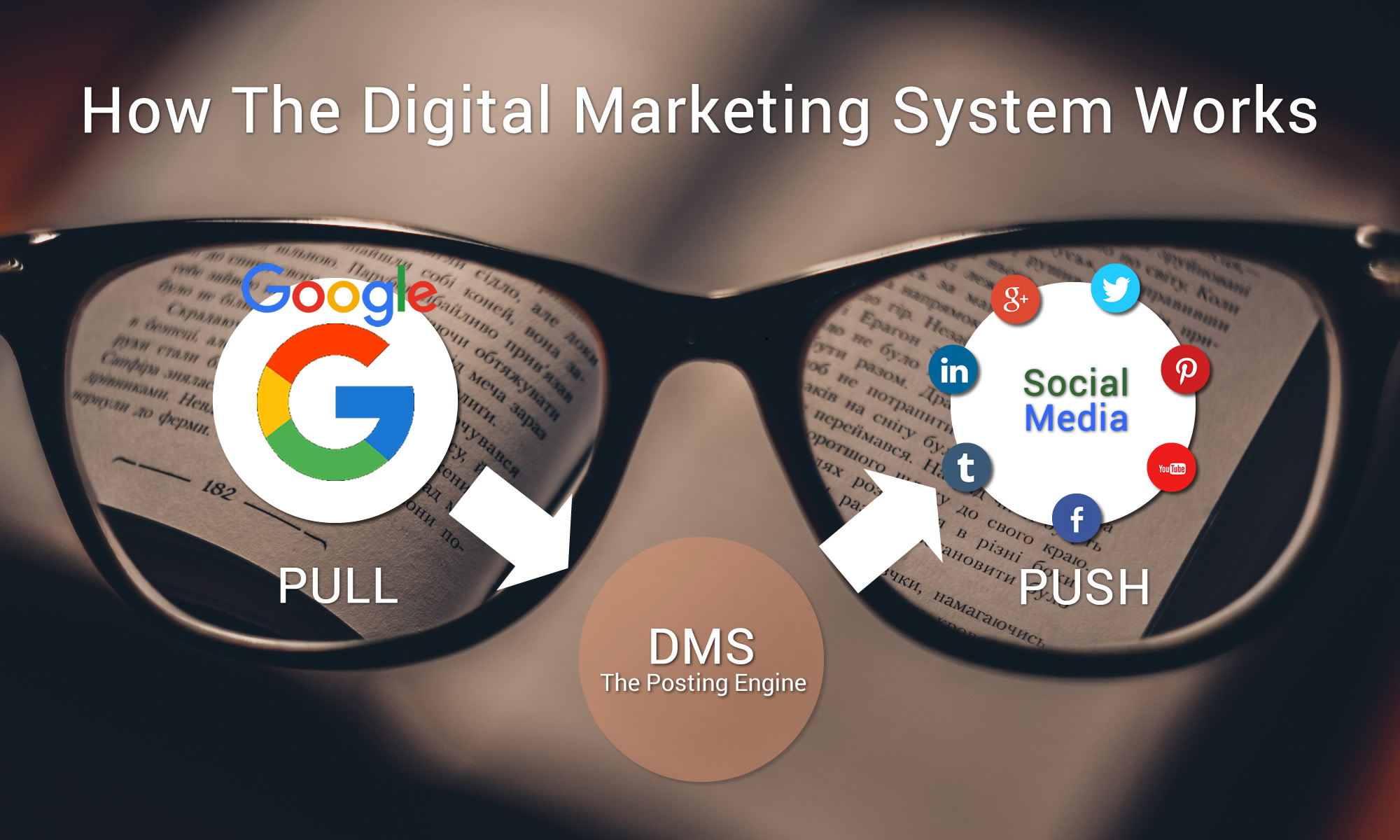 With the Digital Marketing System you get the following:
Ultimate Control
With the Digital Marketing System (DMS) you will get the kind of control over your own website that a lot of other systems won't let you have. At the very least you should be able to login to your WordPress account and be able to create a post. Having control over your own content is the best kind of web promotion to have.
User Friendly
The DMS was chosen primarily for its ease of use. The days of leaving the creation of content to a third party are long gone. Especially if you want to climb to the top of Google. The Positing Engine of the DMS is easy to use and will create structured content on a daily basis keeping your content fresh and easily shared with others.
Security
There are thousands of themes available to use with WordPress. While a lot of them are free,  many offer upgrades that will cost you money. If they are free, you can never sure that the theme is secure.  The Digital Marketing System uses a theme designed by WordPress themselves. Its free, but you know it will be secure because it is in the best interests of WordPress to make it secure.
Mobile Friendly
The theme used by the DMS is very mobile friendly which is important as traffic to your site will be mostly from mobile phones.
Part of the Service
Google My Business
With the DMS you will get postings of your latest projects on a monthly basis.
Social Media
Whenever you post a new project on your website, the same post can be copied to your FaceBook, LinkedIn or Twitter account and shared with your followers.
Search Engine Optimization
Every post you create will be optimized using the SEO Yoast plugin which requires ongoing keyword research and meta tag development.
Google Adwords
The setting up of and installation of Google Adwords not only involves keyword research, ad development and the creation of effective landing pages, but the installation of tracking leads using Google Analytics and Google Tag Manager.
Instruction
The goal of the Digital Marketing System is to put the customer in control of the website. This means ongoing instruction on basic things like how to login to WordPress, how to create a post, how to add a featured image and so on.
Main Features
Larger Images
The DMS uses a featured image dimension of 2000 x 1200 pixels which gives your visitors much greater detail into your projects.
Multiple Channels
The DMS home page is the latest trend towards a dynamic landing page. Each channel represents a different section of your website and are interchangeable depending on what you want to promote.
Fresh Content
The theme used by the DMS is the only theme designed by WordPress that showcases the latest posts on a dynamic home page. This keeps your home page content fresh and constantly updated.
The Digital Marketing System is "contractor friendly" web development and promotion system. It was made for contractors – from electricians to hvac technicians – and everything in between. Why? Because they are always doing something that needs to be documented and posted as content.  Let me explain.
Google loves content, i.e., images, videos and text. If you want to be at the top of Google for your core keywords, you better be prepared to be constantly engaged in the process of generating content for it to devour.  Not just any content mind you – but content that is "structured",  "sharable" ,. "fresh" and "stored" in a database.
The Digital Marketing System makes it easy to create "structured" and "sharable" content, i.e., content that has been optimized for a particular keyword and can easily be shared on social media. But it also makes it super easy to create content that is "fresh".
Too many websites today are not using the posting ability of content management systems, like WordPress, the way it should be used. Before WordPress came around, it was very difficult for a website to be dynamic or always generating fresh content. Home pages, for the most part, were static and seldom changed.  Creating new content was much harder and after a while simply impossible.
This is how should work. Whenever a contractor completes a job, the first step should be to document that job by taking pictures and writing some content for it.  The next step is to post that content using the Digital Marketing System where it is not only shared on social media, but stored in a database, and added to the home page. In this way, the content on a home page is always "freshly" updated every time the contractor completes a job.
As time goes on, and jobs are completed, documented and stored in the database, content is growing and becoming larger and larger. Here is an example.
Suppose your company completes over a 100 projects in one year and that each job is posted with images and content that targets a particular core keyword and/or maybe even a "long-tailed" keyword, i.e., a keyword phrase of more than 3 words. Over that time not only have you been constantly adding fresh content to the home page throughout the year, you've created a huge database of "searchable" content.
This is a big draw for a search engine like Google who has never seen content it didn't like.